It feels weird lumping sixteen episodes of a series together as one entry, then tackling another in far, far shorter increments. But so it goes!
#13. Extras, Season One
Whether you start this series as the British did, on the set of a film about contemporary genocide with guest star Ben Stiller (playing himself as a first rate egomaniac), or as American audiences did, on the set of a film about the Holocaust with guest star Kate Winslet (playing herself as an Oscar-hungry actress with sex and pantomime on the brain), you're still confronted from the outset with a brand of comedy utterly foreign to most North American viewers.
If you've seen some of Michael's most humiliating speeches in America's
The Office
, you've probably come close, but for the true spirit of self-deprecation you need to go back to the source: Britain's
The Office
, for one, and
Extras
, for another. Is it therefore any surprise that Ricky Gervais and Stephen Merchant were co-writers and co-stars for both? In this six episode first season, Gervais plays Andy, a movie set extra looking for a break -- both as actor and as writer -- against all odds, not the least of which is his own, incompetent agent (Merchant). Along his journey, which in this season also has him and fellow-traveller Maggie (Ashley Jensen) brushing up with Samuel L. Jackson, Patrick Stewart, Les Dennis, Ross Kemp and Vinnie Jones, he finds that victories are few and far between -- and that even when they arrive, they can feel very small indeed.
Did I mention this was a comedy?
#14. Extras, Season Two
Okay, so by now you're used to the extreme humiliation factor that goes into
Extras
. By now Andy's sitcom is in full steam, universally hated by critics and used as a focal point for derision by fellow, cruelly competitive actors. Against the brutal honesty of this comedy about constant, demoralizing failure, all else just seems... frivolous. Seriously. (If this were a North American production, I'm 90% certain the main character would have shot himself by now.) Then, suddenly, it becomes clear: That's why we have actors in the first place -- to make up for the horrible, middling predicaments we fear we ourselves are living out! And that's why season two guest stars Orlando Bloom, David Bowie, Daniel Radcliffe, Chris Martin, Sir Ian McKellen, and Robert De Niro are so vital to this comedy's success: Against the black pit of intractable mediocrity in which Andy and Maggie are ever-so-cutely mired, the playful, hyper-exaggerated self-portraits of these six actors is perhaps our only reprieve from utter despair.
Still a comedy, I kept telling myself as I went through the second season. Definitely still a comedy.
#15. Extras, Christmas Special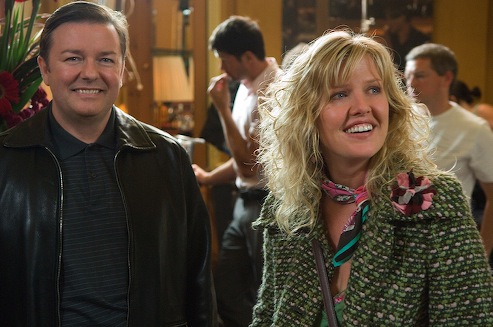 As much as some people wish
Extras
had continued for more seasons, if only to see more actors and actresses make fun of themselves, I couldn't get past the lesson of season two: namely, that the cameo appearances are a happy-fun contrivance the show
needed
so as not to depress the hell out of its viewers for all time. So with a greatly relieved heart, I took on the feature-length
Extras
finale, a Christmas special (with its own fun spate of cameos) that thankfully ends on a higher note than anything offered by seasons one and two. In it, we find Andy and Maggie taking wholly divergent paths: Andy fires his agent, quits his sitcom, and makes a wild stab at fame and fortune that ultimately thrusts him to the bottom of the barrel; Maggie, meanwhile, is confronted with the bottom of the barrel early on, and in refusing it finds her lot in life grown increasingly bleak -- especially because all of the success Andy
has
won (yet despises because it's not good enough) has turned him into a bitter, mingy excuse of a friend. I won't spoil the ending for you, but I will say this much: It's not a double suicide. Believe me, that came as a great relief, because at times I really had to wonder if any note of happiness was really possible in this unquestionably British comedy.
Yes,
comedy
. That's my story and I'm sticking to it!
#16. Brick
But speaking of stories, I'm so pleased I have a housemate, because when she hasn't seen a film I hold dear, it just gives me an excuse to re-watch said film at leisure. So it was with
Brick
, a film noir set so convincingly among high school students that you'll wonder why it took so long to make. Sure, we already had
Bugsy Malone
, but there's nothing anywhere near as cutesy about this murder mystery -- and when someone gets "creamed" in this movie-verse, it definitely takes.
In
Brick
, Joseph Gordon-Levitt (
(500) Days of Summer
) stars as Brendan, the world-weary lone wolf who stumbles upon an underworld of high school crime when he sets about investigating the death of his ex-girlfriend. The cinematography is sparse, the classic archetypes mapped with playful flair over the various performative roles of different high school cliques today, the dialogue dense and smart. Almost a mood piece by definition,
Brick
is the kind of film that sings home the gravity of pretty much any life, and also the absurdity of it. Scenes of note involve Brendan enjoying a bowl of cereal with a side of tension, Brendan facing off with The Man, and Kara, queen of the theatre clique, breaking down glass ceilings for us all. To mention any more than that would take away from the experience: Enjoy!